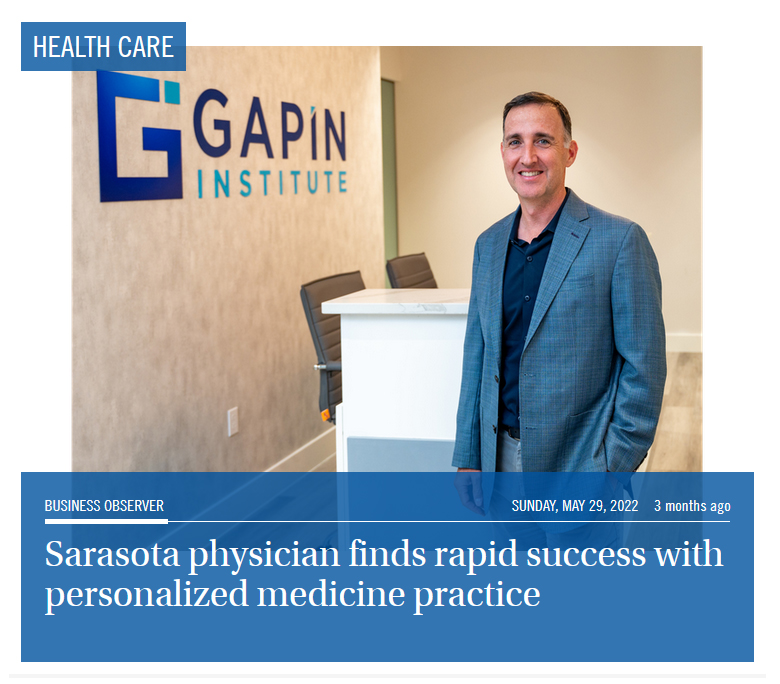 Business Observer: Sarasota physician finds rapid success with personalized medicine practice
Dr. Tracy Gapin recently made the ultimate career pivot, in launching a new medical practice that seeks to take high-tech personalized medicine mainstream.
For 17 years, Dr. Tracy Gapin was part of a traditional urology practice, treating patients and doing surgeries for issues like kidney stones and prostate cancer. "But I got to the point where I felt like there was more out there for me," he says.
His own health journey inspired his next move. After a routine physical where his weight and cholesterol were higher than normal, he began reading up on topics like health optimization, nutrition and preventative and precision medicine. By applying what he learned, he not only lost weight and lowered his cholesterol, but felt better and more energetic, too.
"I'm always looking to innovate, looking for new approaches and for the cutting edge of health," says Gapin, 49. "Through my own health issues, I found a new world of health optimization with a focus on genetics, hormone optimization, peptide therapy, integration of wearable technology, physiology and longevity. And that was where I got super excited. … There's more to health than just the traditional disease model of medicine that I was entrenched in for so long."