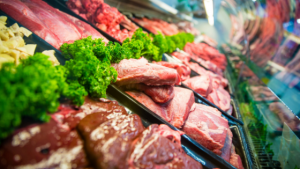 Spoiler Alert: You CAN help prevent prostate cancer thru diet.
What do you think of when you think of wanting to live a healthy life? Let's be honest, most men think of fitness related to physique as the primary focus, maybe even fitness to reduce the risk of chronic diseases like high blood pressure or diabetes. Both physique and avoidance of chronic disease are a great to focus on, but it is also important for men to focus on prostate health as well.
The risk of prostate cancer…
Prostate cancer is the number one cancer among men in the United States. Shocking right? It's not talked about nearly as much as some of the other cancers. If you are like most men, you want to avoid prostate cancer by whatever means possible. Luckily there are some really simple steps you can take to decrease your risk, one of the most important steps is changing your diet.
You can prevent prostate cancer thru diet.
Studies show that changing your diet by reducing your consumption of red meat and processed meat and increasing your consumption of vegetables, fruits, and fish you can reduce your prostate cancer risk.

Missing your Sunday steak night getting you down?
Don't worry, you don't have to change everything at once. Start with once or twice a week, switch out your regular lunch or dinner for a salad with lean healthy protein. This way you get a pile of veggies in one sitting. Bonus points if you nix the iceberg lettuce in favor of kale, spinach, or spring mix.
Additional swaps you can make…
Swap out processed foods for whole foods. A good example is eating a whole orange instead of drinking orange juice.
Use healthy oils, such as olive oil or coconut oil instead of margarine or butter.
Drink more water. Slowly begin to replace soda and other flavored drinks with good 'ol fashioned water.
Want healthy swaps you can make to help prevent prostate cancer thru diet?
Sign up for The EDGE Blueprint Consult, a genetic-based report and private consultation that will get you started on a personalized lifestyle plan to help you start living your best life! Sign up now and take the first step in achieving your maximum potential today.