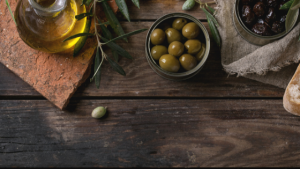 Want to become healthier with just one simple change to your diet?
If you want to reduce your risk of inflammation-related diseases, like cardiovascular disease, Alzheimer's, stroke, diabetes and cancer…
Then you want extra virgin olive oil (EVOO).
Extra virgin olive oil is a primary component of one of the healthiest diets on the planet: the Mediterranean diet. This nutritious fat plays a role in chronic inflammation by minimizing inflammatory pathways, regulating metabolic processes, detoxing cells, and protecting blood vessels.
These properties make it one of the key fighters and prevention methods against serious diseases, including cancer, heart attack, and stroke.
EVOO can even impact your genes and epigenetics!
What is the value of adding extra virgin olive oil to your diet? How will it impact your health? And how can you make olive oil a part of your daily nutrition?
What is extra virgin olive oil? 
Olive oil is the natural oil extracted from olives, which are fatty fruits. In its purest form, olive oil contains a number of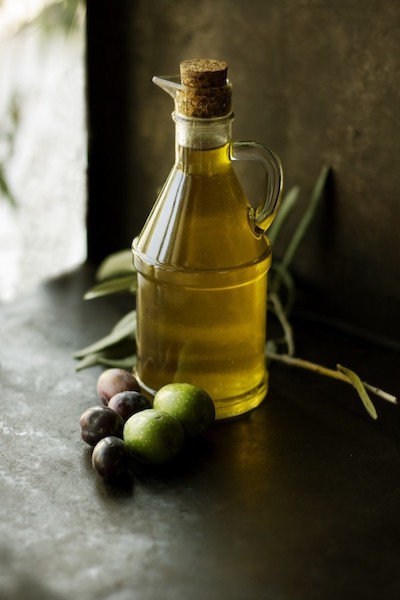 beneficial bioactive components, including oleic acid, biophenols, and vitamin E.
EVOO is a source of unsaturated fats, specifically monounsaturated fats. Monounsaturated fats are a necessary and nutritious part of your daily macros. Oleic acid is the predominant fatty acid in olive oil, making up about 73% of EVOO. It's considered one of the healthiest fatty acids on the planet (that we know of). We'll get more into these benefits below.
About 24% of olive oil is saturated fats, omega-3s, and omega-6s. Omegas are essential fatty acids that the body needs for everyday function. Omegas play a role in brain function, cardiovascular disease, asthma, diabetes, osteoporosis, arthritis, macular degeneration, depressive disorders, skin disorders, and more.
100 grams of olive oil contains:
Monounsaturated fat: 73%

Saturated fat: 13.8%

Omega-6: 9.7%

Omega-3: 0.76%

Vitamin E: 72% of the RDA

Vitamin K: 75% of the RDA
1. Helps prevent cancer
One of the most potent benefits of olive oil is its impact on cancer. Olive oil is filled with antioxidants like vitamins E and K that help fight off disease and inflammation. Olive oil also contains a large number of specific anticancer agents like squalene and terpenoids.
Oleic acid in EVOO is especially cancer-fighting. Oleic acid fights free radical damage, which is the main cause of cancer. It's also highly resistant to oxidation, and it plays a role in controlling genetic expression (also referred to as epigenetics).
Oleic acid suppresses the overexpression of HER2, which is an oncogene (a gene that can transform a cell into a tumor cell). This acid has been shown to reduce the onset, progression, and metastasis in a number of cancers by inhibiting the HER2 gene activity.
Moreover, studies show that the oleocanthal in EVOO can kill cancer cells in less than an hour… while most cells die between 16 and 24 hours. This means that it can help kill cancer cells before they even have the chance to grow or spread.
In fact, a number of experts believe that olive oil is the main reason why people in Mediterranean countries have a lower risk of cancer.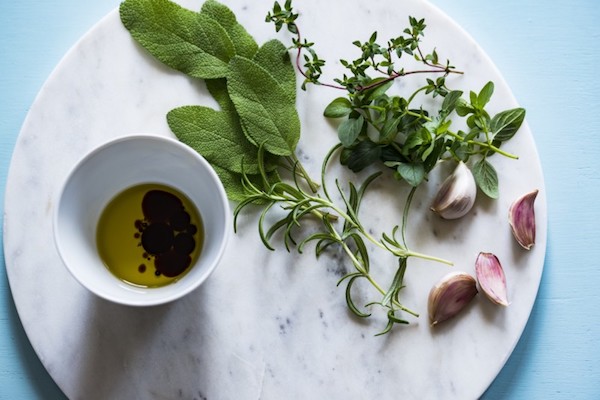 2. Reduces chronic inflammation
The antioxidants that help prevent cancer also assist in fighting systemic (body-wide) inflammation. Chronic inflammation is the number one cause of serious diseases like diabetes, cancer, and cardiovascular disease.
Oleocanthal is a compound in olive oil that shows surprisingly similar features as that of ibuprofen. Ibuprofen is a non-steroidal anti-inflammatory, like over-the-counter Advil or Motrin. You take ibuprofen if you have inflammation in the body, like a headache, a fever, or a swollen ankle. Thus, if oleocanthal has almost identical properties to ibuprofen, it could be a natural solution for long-term and chronic inflammation.
Moreover, oleic acid reduces the serum C-reactive protein, which is a driver of chronic inflammation.   
3. Improves heart health
Chronic inflammation is a major driver of heart disease. As discussed above, olive oil helps minimize chronic inflammation, which in turn helps keep the heart healthy. One study found that olive may even lower blood pressure, reducing the need for blood pressure medication by nearly 48%.
Moreover, the oleuropein in olive oil can actually help prevent the oxidation of LDL "good" cholesterol. This keeps the good cholesterol levels high, which in turn minimizes levels of bad cholesterol. High good cholesterol and low bad cholesterol is essential to long-term heart health and the prevention of cardiovascular disease.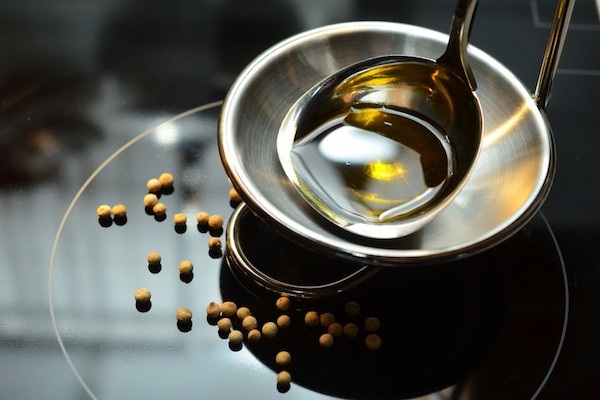 Some studies show that olive oil can also improve endothelial (blood vessel) health and strength. One study suggested that it increases the release of nitric oxide, which is the compound that relaxes and expands the blood vessels to let blood flow freely. This allows more blood to naturally move to the heart. Nitric oxide also plays an important role in preventing erectile dysfunction… so olive oil may be good for the blood vessels in your penis too!
Most importantly, a study of 7,447 participants, aged 55 to 80 at high risk for heart disease, found that diets supplemented with EVOO or nuts significantly reduced the incidence of major cardiovascular events. This is only one of a number of studies practically proving the heart-healthy benefits of the Mediterranean diet.
4. Reduces the risk of stroke
Olive oil has been linked to a lower risk of blood clotting. Blood clots are the cause of heart attack, stroke, and pulmonary embolism.
One review analyzed 32 studies and found a significant association between a higher intake of olive oil and a reduced risk of death by any cause; EVOO especially showed a minimized risk of stroke with nearly a 17% reduction.
Another study of over 38,000 participants found an inverse association between olive oil consumption and stroke.  
5. Improves brain health
The Mediterranean diet has been shown to promote cognitive function and brain health throughout life, especially in later years.
EVOO also plays an important role in minimizing the risk for Alzheimer's disease and dementia. Patients with Alzheimer's have a buildup of beta amyloid proteins in their brain. But research shows that EVOO can actually clear out these proteins, which may help prevent Alzheimer's.
6. Fights mood disorders
Mood disorders like anxiety or depression occur when the brain doesn't have enough serotonin or dopamine, which are the "happy hormones" that play a role in mood, sleep, and cognitive function. Olive oil may actually balance these hormones to minimize cortisol and leave room for the production of these happy hormones.
Olive oil's anti-inflammatory properties also help reduce inflammation in the brain that can cause neurological disorders.  
One study found that an intake of unsaturated fats has an inverse relationship with depression, while trans fats have a linear and proportional relationship.
Olive oil may actually make you happier!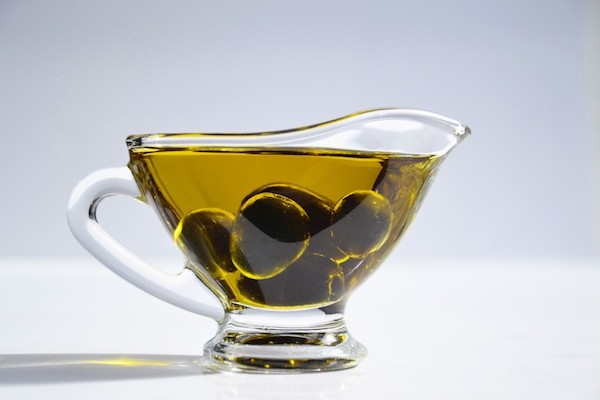 7. Strengthens bones
Research shows that olive oil can positively affect bone thickness. Patients with osteoporosis, which is a decrease in muscle mass, are at greater risk of fractures and breaks—which can even be fatal in older patients.
Olive oil, though, may help fight against osteoporosis and arthritis by allowing the body to better absorb calcium, which is necessary for strong bones.
8. Reduces risk of type 2 diabetes
Type 2 diabetes is an American epidemic. It's expected that by 2050 1 in 3 Americans will be diagnosed with type 2 diabetes.
Olive oil actually stabilizes blood sugar and insulin levels. Balancing out insulin helps increase insulin sensitivity, which minimizes the risk for diabetes.
One small study of non-diabetic subjects found that eating a Mediterranean diet with olive oil reduces the risk of developing diabetes by 40%. A second study confirmed these findings, as olive oil caused less of a spike in blood glucose levels than corn oil.
9. Manages weight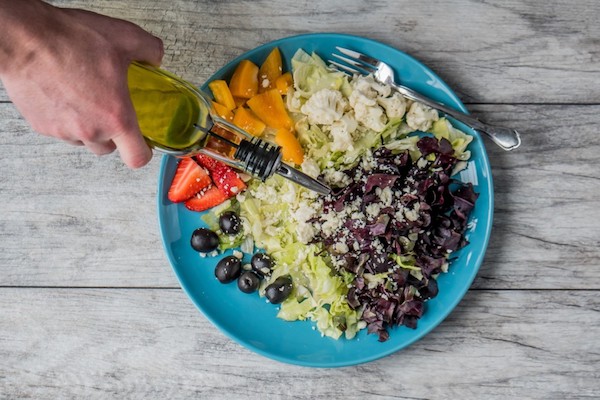 Low-fat diets, like high-protein diets, can actually cause you to gain more weight. Cutting healthy fats out of your diet means taking away one of your three essential macronutrients that keeps your body functioning.
Olive oil is a necessary healthy fat that will not make you fat. In fact, it might do just the opposite.
Countless studies have linked the Mediterranean diet to lower body fat, obesity prevention, and weight loss. In fact, one study found that those eating a Mediterranean diet have an 88% lower risk of obesity. 
This weight management likely has three causes.
Olive oil can also help regulate insulin and blood sugar levels. Spikes in sugar levels cause the body to store fat, but minimizing these spikes can help regulate how your body uses its energy.  

The Mediterranean diet encourages a higher intake of fruits, vegetables, and fish, which all have

positive effects on weight

.

Healthy fats help reduce hunger, which minimizes the number of calories consumed.
What's the best kind of EVOO?
There are different types of olive oil out there, some better than others. You want to make sure that you're getting extra virgin olive oil. The "extra virgin" means that it's as pure as possible. Other types of olive oils go through a refining process that can remove all of the antioxidants and bioactive compounds—and some brands even add in unhealthy, saturated fats!
Make sure that you're getting real extra virgin olive oil. Do your research to ensure that your "extra virgin" hasn't been diluted with other refined oils (which is a common oil scam in our grocery markets today)
A good rule of thumb is to go for the darkest bottle of olive oil on the shelf. Darker bottles help protect the oil inside, because the active components in olive oil can go bad when exposed to the sun.
Look for pure oil in dark bottles.
How do you consume extra virgin olive oil?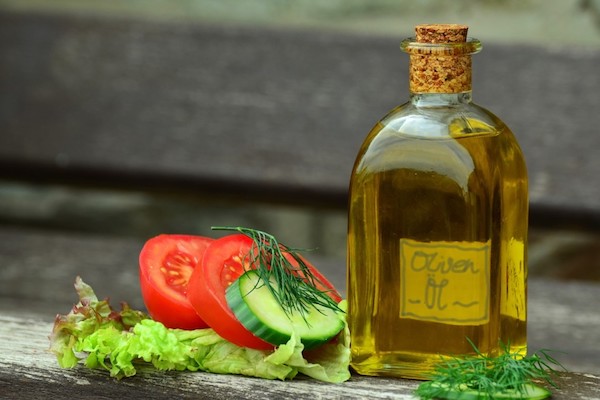 I love olive oil because it's so versatile—and delicious!
Olive oil is a great salad dressing. Olive oil and vinegar is one of the healthiest—and tangiest—ways to spice up your favorite salads.  
If I'm treating myself to a dish of whole-wheat pasta, I'll throw some olive oil in with my tomato-basil sauce for a deliciously healthy addition. If you like your pasta plain, a few tablespoons of olive oil adds a bit of flavor while softening the pasta.  
Best yet, extra virgin olive oil is great for cooking. Studies show that it can withstand high temperatures while resisting oxidation. Other oils actually emit toxic fumes and produce harmful free radicals when exposed to high temperatures.
Not only does EVOO not create toxic chemicals when heated, but it also maintains the majority of its antioxidants and bioactive compounds even at high temperatures! This means that cooking with EVOO can actually add more nutrition to some of your favorite healthy dinners.
So throw a capful of EVOO in the pan to sauté your veggies or grill up some chicken. I'll even put a few drops in the water before boiling pasta or rice as a substitute for salt. EVOO adds flavor and helps the grain cook faster, and it's a great way to minimize your sodium intake.  
There's not much you can't do with extra virgin olive oil.

Pro-tip: Olive oil also has antibacterial properties. Studies show that it can reduce bacteria like Salmonella, Listeria, and H. pylori, even when used in mayonnaise and salads. One study even found that EVOO is effective against 8 strains of H. pylori that are resistant to antibiotics. Toss your salad in olive oil for added layers of protection.
Conclusion
I like to think of extra virgin olive oil as the chimney sweep. It clears out your heart, blood vessels, brain, hormones, fat cells, and more. It basically helps "reset" your body and genetics towards a healthier resting state.
Best yet, incorporating more EVOO in your diet is a small, delicious change that will radically improve your health.
Do you want more nutrition tips that will help boost your vitality in weeks?  
Do you want to be the most vibrant and sexy you've ever felt?
Are you ready to take action to regain your health and vigor?
Are you ready to upgrade your health?
Schedule a consultation to learn how.
Ready to take the next steps?
**************************
In Male 2.0™, Dr. Tracy Gapin has turned everything we once thought we knew about men's health and performance upside down. The old model of how to be "a man" is broken. A man who works himself to death.  Unfortunately, a man who tries to NOT get sick but isn't really healthy either.  And a man who takes a pill for every ill but is never really cured. That was Male 1.0. Now, imagine being THE MAN ─ owning your performance in the bedroom, the weight room, and the boardroom. Living a fully optimized life. Becoming limitless. This is Male 2.0!

Tracy Gapin, MD, FACS  is a board-certified Urologist,  world renowned Men's Health & Performance Expert, Author, and Professional Speaker. Using state-of-the-art biometric monitoring, nutrition and lifestyle intervention, Dr. Gapin coaches Fortune 500 executives and evolutionary leaders of business, sports medicine, and high performance. He specializes in cutting-edge precision medicine with an emphasis on epigenetics, providing men with a personalized path to optimizing health & performance. www.GapinInstitute.com
Want more tips to optimize your health?  Listen to the latest podcasts. Click HERE